Your Partner in Veterinary Excellence
Thank you for choosing Bridger Veterinary Specialists as your partner in veterinary specialty care. We strive for the highest level of communication throughout the diagnostic and treatment process. Your patients and clients are of great importance to us and we will treat them as the individuals they are by providing excellence and compassion every step of the way.
Through careful collaboration, we are able to provide specialty services that can meet the needs of complex cases. We will complement previous diagnostic and treatment programs to create a continuum of care.
Referral FAQ
What to Expect Prior to Surgery
We welcome your inquiries and consultation prior to referral. We will evaluate your radiographs and other diagnostics to complete the right treatment protocol. No charges will incur when only verbal reporting is conducted. Should a pet require surgery, we offer expedited or same-day surgeries.
A CBC, biochemical profile and UA (+/- culture) are indicated for most elective orthopedic patients. Thoracic radiology is sometimes recommended for patients with cancer or those that are over the age of 8 years. A critical evaluation of the skin is very important to prevent cancelation on the day of surgery due to pyoderma. For cases being referred for joint replacement, we will need digital radiographs to have a calibration marker, so most will need to be repeated.
Your clients may call us at 406-548-4226 or email us at info@bvspets.com to schedule a consultation. You may also create an account through our online portal to refer patients to us. This can be found by visiting https://bvspets.rvetlink.com/ or by clicking on the Referral Login tab at our website https://bvspets.com/.
NOTE: Bridger Veterinary Specialists is a fax-free hospital. We only accept emailed records or your clients may hand carry hard copy radiographs and written records if you are unable to scan/email.
Pricing Guidelines
Pricing is based on complexity of and time spent in surgery or other procedure. It is our position to overestimate fees and refund accordingly. We prefer to keep patients overnight for their safety and comfort, but can provide at home post-operative or post-procedural care instructions per the client's request if the pet is deemed safe for discharge. Please call us to discuss expense, as it is our goal to keep cost affordable for our pet families.
TPLO Radiographs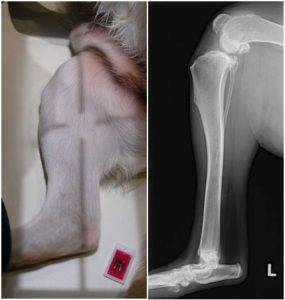 Medial to lateral radiograph with affected limb placed down. The stifle and tarsus are at 90 degrees and both joints can be seen.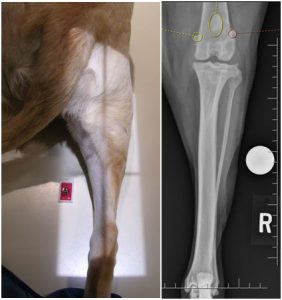 PA radiograph: The patella is central with fabella equally split. Both tarsus and stifle can be seen on the radiograph. The limb is allowed to sit "naturally" with no torsion placed during positioning.
Post Procedure
You will be provided with the complete discharge instructions and summary of care given to the client. While it is our preference to see the client during the recovery period, if distance doesn't allow, we can provide radiographs and interpretation via email free of charge. We request a follow up radiograph 6-8 weeks after surgery.