Bridger Veterinary Specialists
Veterinarians
Dr. Britt Culver

DVM, DACVIM(SAIM)
Dr. Britt Culver is a Wyoming native and attended the University of Wyoming for his undergraduate training. He then graduated from Colorado State University School of Veterinary Medicine. He pursued advanced training in internal medicine, spending one year at Purdue University and three years at Virginia Tech. He is board-certified by the American College of Veterinary Internal Medicine as a small animal internal medicine specialist. After his residency in 1996 he moved to Montana to practice as a veterinary internist seeing internal medicine, cardiology, and oncology cases. Since the fall of 2011, he has also been employed by Abaxis Veterinary Reference Laboratory as an internal medicine consultant.
In addition to veterinary medicine, Dr. Culver loves to spend time with his family. He enjoys spending time in the outdoors, whether that be on a golf course, trout stream, or in the mountains.
Dr. Joshua Jackson

DVM, DACVS
Dr. Josh Jackson is a board-certified, Diplomate of the American College of Veterinary Surgeons. Having grown up on a ranch in Northern New Mexico, he developed an early love for all animals. His father's influence as a General Surgeon for people led to an early interest in surgery. Dr. Jackson went to veterinary school at Colorado State University where he graduated a member of the Phi Zeta honor society. He went on to perform a rotating internship at the Veterinary Specialty Hospital of San Diego and a residency in surgery at the University of California, Davis. Dr. Jackson returned to San Diego and founded the surgery service at the Veterinary Specialty Hospital. Under his directorship, the service has grown to seven surgeons performing thousands of surgeries every year. As an active mentor to over 140 interns and residents, Dr. Jackson has helped many young surgeons achieve diplomate status. Dr. Jackson has broad clinical interests in surgery, ranging from total hip replacements to advanced soft tissue and reconstructive techniques. He has lectured nationally and internationally on cruciate ligament disease, total hip replacement and orthopedic implants and published numerous scientific articles on a variety of soft tissue and orthopedic topics. Dr. Jackson was founder of the Veterinary Specialty Hospital of Hong Kong, the first specialty referral-only hospital in Asia. He was also founder of FACE, a non-profit organization that has saved thousands of pets in the San Diego region from euthanasia for economic reasons.
Dr. Jackson is now happy to bring his years of experience to the pets and people of Montana. He is excited to bring 24-hr, specialty care to the region and looks forward to expanding the services currently available in the area. His free time is spent exploring the rivers, trails and slopes of Montana with his family and his two black labs, Django and Madison.
Dr. Jason Wheeler

DVM, MS, DACVS
Dr. Jason Wheeler was born and raised in Ft. Myers on Florida's gulf coast. Dr. Wheeler returned to the University of Florida for a combined master's degree and residency in small animal surgery. During his residency he won several awards for excellence in clinical research from the University of Florida, the American College of Veterinary Surgeons, and the Veterinary Orthopedic. He has been involved in multiple research studies and has authored or coauthored over 20 peer reviewed scientific publications. Dr. Wheeler has since worked at a large referral center in Denver and co-founded a multispecialty clinic in Virginia. Dr. Wheeler and his wife Marion have 3 wonderful daughters who all enjoy the sense of community and love of the outdoors found in Bozeman.
Dr. Wheeler has a broad interest in veterinary surgery including wound management, cranial cruciate ligament instability, joint replacement, elbow dysplasia, fracture repair and oncologic surgery. In his free time, Dr. Wheeler and his wife Marion stay busy with their girls who enjoy camping, hiking and their corgi, Meatball.
Dr. Kelly Carlsten

DVM, DACVIM(Oncology)
Growing up in Bozeman, Montana, Dr. Carlsten realized her passion for helping animals when she was a high school student working as a Veterinary Assistant at a local clinic. She went on to earn her Doctor of Veterinary Medicine degree and veterinary acupuncture certification at Colorado State University before heading to The Ohio State University for a small animal medicine and surgery internship. Dr. Carlsten returned to Colorado State University where she completed an oncology clinical trials internship, masters degree, and medical oncology residency. For the past six years, she has been practicing oncology at a specialty hospital in Santa Rosa, California.
As one of the region's only board-certified oncologists, Dr. Carlsten is excited to bring compassionate cancer care to Bozeman and the surrounding areas. Dr. Carlsten focuses on quality-of-life for all of her patients and their owners and has special interests in the human-animal-bond and hospice care. Her previous research focused on combination therapy for mast cell tumors, pet hospice, and client education.
Now that she's back home in Bozeman, you may catch Dr. Carlsten fly-fishing, kayaking or hiking with her husband Paul and two dogs, Bridger and Edwin.
Dr. Hilary Jackson

DVM
Dr. Hilary Jackson grew up in New England and in western Colorado. After completing her undergraduate degree at Williams College, she moved back to Colorado, where she spent several years competing on the IFSA World Tour as a professional big mountain free skier and ski cross racer. Her true passion has always been working with animals, and she ultimately left the ski world for veterinary school. She graduated from Tufts Cummings School of Veterinary Medicine in 2012. After veterinary school, she completed a 1 year rotating small animal internship at VCA Emergency Animal Hospital and Referral Center in San Diego, where she was awarded Intern of the Year. She subsequently spent 5 years in general practice at Del Mar Heights Veterinary Hospital in San Diego. After moving to Bozeman in 2018, she and her husband founded Bridger Veterinary Specialists. In her spare time she enjoys skiing, hiking, biking and exploring Montana with her family. The Jacksons have two black labs, Django and Madison, as well as two cats, Bandit and Simba.
Dr. Meredith (Miyo) Murtagh

DVM
Dr. Meredith (Miyo) Murtagh graduated from the Virginia-Maryland Regional College of Veterinary Medicine in 2004. After graduation, she worked at a large emergency and speciality hospital in Washington, DC for 11 years. Miyo moved to Bozeman in 2014 and worked at PETS Emergency until 2021. In 2021 Miyo joined the Bridger Veterinary Specialists team as one of our in-patient doctors. Miyo oversees the care of hospitalized patients during the day. When she is not caring for patients at Bridger Veterinary Specialists she can usually be found at the gym or somewhere outside with her Akita, Kangi.
Dr. Jennifer Shinn

DVM
Jennifer and her family, including her animal family, moved to Bozeman in 2015 after more than 30 years in Colorado. Although she loved living in Estes Park, she was ready to experience something new. Living in Montana has given Jennifer endless opportunities to explore the mountains, camp, hike, climb, cycle and ski. Jennifer has worked in general and emergency practice for 24 years and loves the variety that veterinary medicine and surgery has to offer. Her favorite part of practice is working with pet owners to ensure they get as much care as their animals do. In 2021 Jennifer joined the Bridger Veterinary Specialists team as one of our in-patient doctors. Jennifer oversees the care of hospitalized patients during the day. Jennifer is really excited about joining Bridger Veterinary Specialists because of the quality of medicine and surgery they offer and the dedication of the entire staff.
Staff
Erika Hultquist

CVPM, CVT, Hospital Manager
Erika Hultquist, CVPM, CVT is our hospital manager. She is both a Certified Veterinary Practice Manager and Certified Veterinary Technician and brings many years of experience to the practice. After dreaming of living in Montana for many years, Erika relocated to Bozeman in 2017. When not working she enjoys hiking, spending time with her family, and visiting Yellowstone National Park. She is entertained by the funny things her very quirky Berger Picard dog named Wylie does.
Cissy Patterson

CVT
Brittni Heflin

Technician
Donja Prins

CVT
Kaitlyn Gieselman

CVT
PJ Penor

CVT
Debbie Johnson

CVT
Angela Montanez

Receptionist
Triston Edwards

Veterinary Assistant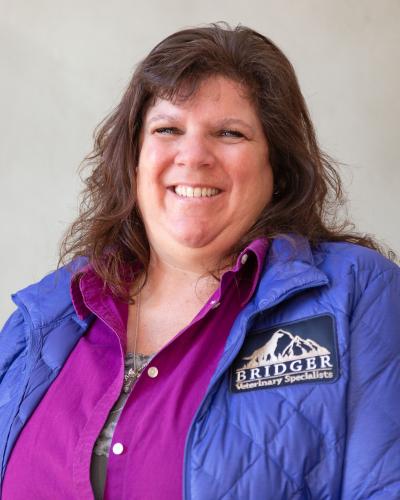 Lisa Bauer

Receptionist
Lisa was the 9th generation born on a ranch in Northern California. At 13 she moved to Stevensville, Montana. Lisa graduated from high school, raised 3 children there, and still has family in Stevensville. Lisa moved to Bozeman 11 years ago where she now has a beautiful home, 5 dogs, 4 cats, 4 horses and 17 goats to keep her busy in her spare time. Lisa says she loves working at BVS and joined the team in 2010. Lisa says the people and clients at BVS are wonderful and she is so excited about the medicine she gets to be involved in everyday.
Melanie Lyons

Technician
Andrea Eberth

Technician
Addy Erickson

Technician
Carmen Dunn

Veterinary Assistant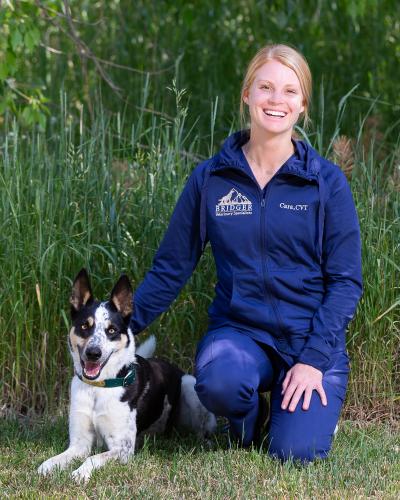 Cara Braxton

CVT